The Valdosta Board of REALTORS Community Service Committee seeks to help
HUNGRY@HOME which feeds HUNGRY CHILDREN by providing backpacks with food for the weekend.
HOW CAN YOU HELP?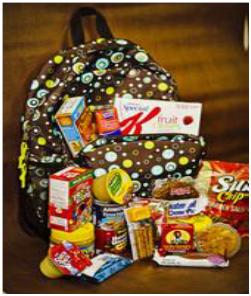 BRING ANY FOOD ITEMS ON LIST BELOW OR IN THE PHOTO
(non-perishable items please)

1. CANNED MEATS W/ POPTOPS such as VIENNA SAUSAGE, BEANIE WEENIES, RAVIOLI
2. PACKS OF CRACKERS - PEANUT BUTTER OR CHEESE CRACKERS
3. CEREAL OR GRANOLA BARS
We will be accepting donations at our office
until 5 p.m. Wednesday, March 18th!

We are located at 3315B N. Valdosta Rd, Valdosta GA.

MONETARY DONATIONS are gratefully accepted and help buy food at reduced prices. It takes only $7 to feed one child for the weekend and only $250.00 to feed a child for the entire school year! What can you do to help feed hungry children?
Valdosta GA Real Estate - As a Realtor team, Adam and Morgan Guthrie are the best of the best. They are a member of the larger EXIT Realty In Touch team selling 25% more real estate per agent in the Valdosta area than any other real estate agency in our area! #1 in the area, #1 in the company. It doesn't get better than that! Call Adam (229) 548-7719 or Morgan (229) 251-7987 TODAY!